---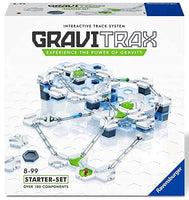 Gravitrax Starter Set
Happy Go Lucky
Experience the power of gravity! GraviTrax is the all Contruction toy STEM track system from Ravensburger! Use your imagination to build superb tracks and set the gravity spheres rolling!
This STEM system [Science, Technology, Engineering and Maths] is an ideal one to teach kids about gravity, magnetism, kinetic energy and fun. Hit a snag? Freestyle with your own track design or use the tasks and blueprints included to help you to get started in the world of GraviTrax! Are the gravity spheres stopping or flying off before reaching the end target? Time for some problem solving. Rebuild and try something different! The GraviTrax track system can be extended indefinitely with extra track packs and add-on's – each sold separately. This set is suitable for 1+ players, ages 8 years and up.
The starter set comes with over 100 components and offers everything you need to get started right away - a pack full of endless possibilities and creativity. It includes 1x Set of Instructions, 1x Set of Blueprint, 1x Exercise booklet, 4x Card Bases, 2x Transparent levels, 6x Gravity Spheres, 3x Long Rails, 6x Medium Rails, 9x Short Rails, 1x Magnetic Cannon, 21x Curved Bases, 3x 'X' intersection Bases, 1x Vortex Base, 2x 'Y' Points Bases, 1x End target, 1x 3in1 Base, 4x Bases for inserts, 1x 3 Way Starter Base Insert, 2x Catcher Base Inserts, 2x Switches, 1x Base Insert, 1x Free Fall Base Insert, 1x Target Base Insert, 40x Large Vertical Tiles, 12x Small Vertical Tiles.